At Four Star Farm, we take pride in offering and producing quality eventing, dressage and jumper competition horses. Our sale horses range from finished show horses to young horses beginning their careers.
If you have a horse for sale, Four Star Farm proudly offers a quality consignment program. We can design a customized program to help you market your horse. Four Star Farm will also act as consultants—if we do not have the horse for you, we can find it elsewhere using our extensive network of contacts throughout California and the world. We have dependable contacts in Germany, Ireland, and England.
Of Wind N Sky
Of Wind N Sky is a registered, fully-approved Trakehner mare. "Baby O" could not be sweeter or more of a workaholic! She also has the drop-dead gorgeous grey thing going on. She is lovely on the flat and will bravely jump whatever you put in front of her. She has competed at Training Level in eventing, 1.00 jumpers and is schooling Second Level dressage as well as doing her changes easily. She absolutely MUST go to a competition home with someone who will not only compete her to her potential but love her warm and fuzzy personality! She will vet but know that I am vetting you … lol. I bred her and love her as my own child, so a fabulous home is required!
$30,000.
Best Kept Secret
Best Kept Secret is a 2013, 17+ hand Trakehner gelding. He is by the Grand Prix show jumping stallion Horalas Pg*, out of the very special mare Barina (out of a mare by Peron Pg*, Olympic bronze medalist in dressage and by Graditz Pg*). Barina is also the dam of the approved Grand Prix dressage stallion Bond James Bond. Best Kept Secret, aka BK, was the Reserve Champion for the West Coast FEH (Future Event Horse). This exceptionally well-bred character has a ton of personality and will keep you laughing and endlessly entertained! His work ethic is also exceptional. He has lovely gaits and a soft mouth. He is sensitive and responsive to light aids without being hot or difficult. He is a real pleasure to ride—so much so, you won't want to get off! This ideal, talented package does come with a price, so serious inquiries only, please!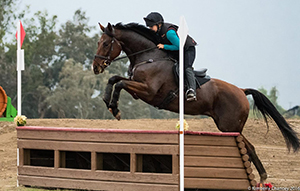 Bellespoir – SOLD
Bellespoir – Congratulations to Jenny Salinger! Bellespoir, "Belle, is a 16.0, 2009 registered Holsteiner. Chestnut with lots of chrome and three very good gaits. She is an exceptional jumper. She is very successfully competing at Preliminary Eventing and as a Jumper in the 1.20. She is brave, sound and athletic enough to be an Advanced-level event horse. She is super on the trail and very quiet and easy to ride, suitable for an adult amateur or child but talented and special enough for a professional or ambitious Young Rider. She would make an ideal Young Rider horse as she is now qualified to do a 1-star, and will most certainly make a two-star horse.