Four Star Farm offers English riding lessons on amazing school horses or on your own horse, and training programs to bring along young horses or retraining problem horses, and competing horses to get them experienced at showing. Our breeding program produces many high quality horses for sale, from young horses just starting to horses with competition experience.
We welcome all ages and levels, provide a dedicated showing and competition curriculum for dressage, show jumping, and eventing. Our programs emphasize a positive, supportive atmosphere that promotes great friendships and lifelong fulfillment.
Beginner through advanced
Dressage
Show Jumping
Cross Country
Lesson Fees
One-time, introductory riding lesson – $110
One-month, 4 lessons – $375 (The four lessons are scheduled in the same month)
One-month, 8 lessons per month – $640 (eight lessons/month, scheduled in the same month)
The monthly horsemanship class is a non-riding class that gives participants the opportunity to learn and practice basic skills and all about what goes into caring for our equine friends. Participants new to riding and horsemanship practice skills such as haltering, leading, grooming and tacking up. A big plus for attending these classes is that as beginning riders acquire these skills, they spend more time in the saddle during lessons. $40/participant.
Summer camps for ages 7-14, $650 per camper per week
Adult camps
Virginian Sky *Pb* – Approved American Trakehner Association Stallion
Virginian Sky is a German-bred and U.S.-stationed Trakehner stallion approved by the American Trakehner Association and the German Arabian Sporthorse Association (ZSAA). We invite you to learn more about our wonderful stallion, His foals from 2012 are all beautiful, refined fillies that will be gray!
Clinics With Alfredo Hernandez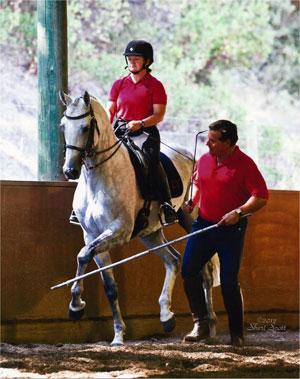 Classically trained at the Portuguese Riding School, Alfredo Hernandez specializes in piaffe and passage. He utilizes these classical movements to develop strength and improve each horse's gaits. Originally from Jerez, Spain, Alfredo has become one of this country's leading experts in developing and schooling the piaffe and passage in-hand.
In the piaffe/passage, he is currently coaching Steffan Peters, Alyssa Pitts, Heather Blitz, Betsy Steiner, Sandy Howard, and has coached many other top riders from around the country including Hilda Gurney, Jan Ebeling, and Leslie Morse.
He works with horses in all stages of training, from three-year-olds through FEI, developing the basics for piaffe and passage and improving piaffe and passage for seasoned competitors. Riders and horses of all levels are welcome. He works his magic with all ages and breeds. Horses in the clinic need not be started in passage and piaffe. Lessons can be designed to introduce or develop passage and piaffe and can also provide focused instruction in other areas of dressage.
Alfredo enjoys working with amateurs and professionals alike. His clinics are fun (featuring his infectious sense of humor) and educational for everybody.
Fee: $125 (cash only), 45-minute lesson
Clinics With Natalie Brady
Schedule a dressage, show jumping or cross-country clinic in your area. Clinics can be tailored to your group's interests. Dressage lessons are usually 45-minute, private sessions, while show jumping sessions group three riders of similar levels together.
Scheduling Natalie for a day-long clinic: $1,200 plus expenses.
Inquire about the possibilities to enrich the partnership with your horse and take your riding to a higher level!
E-mail Natalie for available dates.
Introductory through Advanced eventing
Training Level through Grand Prix dressage
Schooling through open jumpers
Coaching
Warm-up and course walks
Visit our calendar for the competition schedule.
Fees
Lessons
One-time, introductory riding lesson – $110
One-month, 4 lessons – $375 (The four lessons are scheduled in the same month)
One-month, 8 lessons per month – $640 (eight lessons/month)
Coaching, Cross-Country Schooling
Coaching at shows – $110 per day
Cross-country schooling lesson – $110
Training
Full training – $960 per month, in addition to board
Immerse yourself in the world of Trakehners by joining Four Star Farm owner and trainer Natalie Brady on a trip to the Trakehner gala and stallion approvals in Germany. This annual October event provides the premier opportunity to learn about every aspect of the breed and all it has to offer or simply see gorgeous horses.