Clinics With Alfredo Hernandez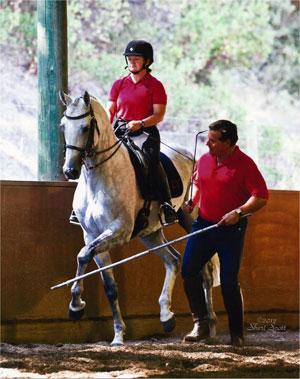 Classically trained at the Portuguese Riding School, Alfredo Hernandez specializes in piaffe and passage. He utilizes these classical movements to develop strength and improve each horse's gaits. Originally from Jerez, Spain, Alfredo has become one of this country's leading experts in developing and schooling the piaffe and passage in-hand.
In the piaffe/passage, he is currently coaching Steffan Peters, Alyssa Pitts, Heather Blitz, Betsy Steiner, Sandy Howard, and has coached many other top riders from around the country including Hilda Gurney, Jan Ebeling, and Leslie Morse.
He works with horses in all stages of training, from three-year-olds through FEI, developing the basics for piaffe and passage and improving piaffe and passage for seasoned competitors. Riders and horses of all levels are welcome. He works his magic with all ages and breeds. Horses in the clinic need not be started in passage and piaffe. Lessons can be designed to introduce or develop passage and piaffe and can also provide focused instruction in other areas of dressage.
Fee: $125 (cash only), 45-minute lesson
Clinics With Natalie Brady
Schedule a dressage, show jumping or cross-country clinic in your area. Clinics can be tailored to your group's interests. Dressage lessons are usually 45-minute private sessions, while show jumping sessions consist of groups of three riders of similar levels.
Natalie' s day-long clinic: $1,200 plus expenses.
Inquire about the possibilities to enrich the partnership with your horse and take your riding to a higher level!
Contact Natalie for available dates.